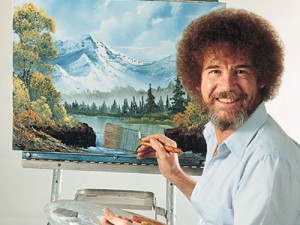 Bob Ross, in the Joy of Painting was like Big Bird in Sesame Street to me.  Never mind the fact they have similar hairdo's!  His show, The Joy of Painting, aired from 1983-1995 which spanned most of my 'TV-watching' childhood years.  He has a soothing voice and really great little sayings, such as "let's put a happy little cloud over here", "We don't make mistakes, we have happy accidents," and "this is one of the places my little squirrel would like to live" (while painting trees and other things, he'd often talk about 'his little squirrel' Pea Pod).  Back then I had none of my prejudices against squirrels and found it charming that the squirrel liked to sit in Bob's afro.  Though at a certain age Bob became almost a joke to me, now when I see him it brings back a warm feeling of nostalgia and fondness that seeing an old distant family member would.
This morning I discovered Bob on TPT, and compulsively hit 'record' on Tivo.  I mean, how could I not?  It's Bob Ross, afro and all, painting a winter landscape with the same magical ease he's always done, and his voice at a low soothing -and almost hypnotic- pitch.  He makes painting look so simple that I was honestly disappointed as a child when I'd try to do what he was doing and couldn't.
If you've never met the happy painter, check him out.  He paints canvases as easily as he paints stories.