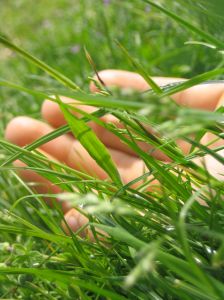 The ridges on my fingernails have grown back. There they are grooved and textured. This means nothing to anyone but myself. Not many people know that my study-mates and I stopped at the Mall of America after our last Final Exam in the spring. They were taking me to the airport straight from class, but we had a few hours to kill. We got crepes and walked around. We met a guy named Fabritzio (who liked to say we'd soon be asking ourselves, "Why why why is Fabritzio engaged?" Instead I asked my self "why why why does Fabritzio say 'why' so many times when asking a question?"). Fabritzio manned one of those terrible kiosks at the Mall, and had a gimmick as slick as his hair. He was soon trying to pawn off hand lotions and nail files on us. He pulled us into his small realm of hand creams, literally pulled me in, by grabbing my thumb as I walked by, and held onto it the entire time he gave his little talk. At some point during his speech, and desperate attempts to sell to us, he glared with disdain at the ridges on my thumbnail, 'tsked' me, and buffed it until my thumbnail was completely smooth.
My friend Ursula bought a kit for me and Amanda (as the two of us had no plans to buy it) and Ursula thought the lotion might be good for us nursing students -since we wash our poor hands so many times a day. This was nice of Ursula, especially because, I had only one very buffed and polished nail, and the rest dull and ridged.
Directly after this I went to the airport (my new hand supplies tucked securely away in my suitcase, since I couldn't take that quantity of lotion in my carry-on). I then landed in Michigan and went immediately to the wake of my father-in-law, Paul.
It's odd really, how I didn't think about it too much. But then one day a few months ago I ran my finger over my thumbnail and realized the ridges were completely back. It was an odd way to mark the passage of time, it was something so small, but at that moment it really hit me -the ridges were back, but Paul was still gone.
And by the way, the lotion- not so good. Stay away from the cold clammy handed Fabritzio.  Don't let him lay a finger on your thumb.